Entrepreneurs, designers and inventors are always working hard to come up with new electronic product ideas that will help consumers in day to day life. One of the most important factors of being legally allowed to sell an electronic product throughout the European Economic Area is to make sure it complies with the standards set by the CE marking approval process. You don't want to spend hours working on your product only to stumble at the last hurdle when getting it CE marked. This post will highlight key things to think about and what you need to do when CE marking your product.
CE Marking is used for many different electrical products from toys to medical devices. There are a number of benefits to having your product CE marked including:
Shows that the manufacturer has checked that these products meet EU safety, health or environmental requirements
Is an indicator of a product's compliance with EU legislation
Allows the free movement of products within the European market
Source: gov.uk/guidance/cemarking
A testing house can be used to put your product through a range of extensive tests. GSPK Design can work with you and offer advice on best practices and recommendations where your product can be CE certified. Your product will be subjected to a number of tests that range from generic tests that broadly apply to most products, necessary safety testing and specific to electronics, an EMC test.
Any problems can be addressed and once fully compliant your product will receive a statement of conformity from the test house.
When applying the CE mark to your product it must be placed in accordance with the legal requirements. If you need to reduce or enlarge the logo then the proportions must adhere to the image below: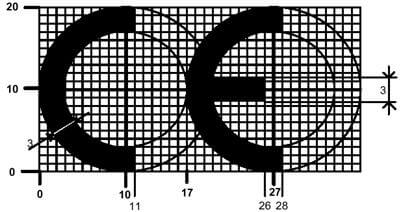 The CE mark must be placed by the manufacturer or an authorised representative within the EEA. Make sure the identification number is clearly visible and that the mark is impossible to remove. The CE mark can be used in other places such as manuals, packaging and supporting literature.
To summarise:
Plan and prepare at the very start to ensure no hiccups down the line, at GSPK Design we work closely with you on every little detail to make sure problems don't arise.
Prepare for the test house, ensure you have all the correct parts that the test house require.
Work with an applicable test house to go through the testing process to receive your declaration of conformity.
Iron out any problems that may have occurred from the testing. If procedures were taken before testing this hopefully shouldn't need to happen
Agree on the placement of your CE mark on your product and if necessary on relevant product packaging and literature. Make sure all documents are kept safe, signed and dated appropriately.